Damn Cheetah / P R I M A L
*Limited Quantity - Autographed Version*
(Autographed by vocalist Les Brown of N.R.G. / Damn Cheetah)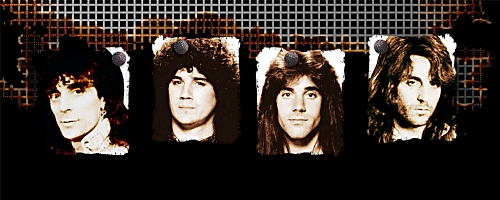 Read the latest reviews / interviews on the P R I M A L/Damn Cheetah CD!
Transfans worldwide may recognize the singer of Damn Cheetah from the song "Instruments of Destruction" as performed by the power metal band N.R.G. for the movie and soundtrack "Transformers:The Movie" an animated classic that still stands the test of time. The very same Transformers and toy line from Hasbro. Damn Cheetah is a four piece hard rock outfit from NYC featuring Les Brown vocalist of "N.R.G." and members of "Blacklace". Damn Cheetah is straight ahead no nonsense melodic hard rock. P R I M A L is a collection of tunes we have written over the years so if your a fan of melodic hard rock then I'm sure this CD will not disappoint. Thanks for stopping by my name is Les Brown I'm a singer/songwriter from Boston Mass. I've been singing and writing songs for many years in original hard rock bands ever since the 80's and whether it's a heart felt ballad or a signature scream I have always tried to put everything I have into each and every song. P R I M A L is a CD of 11 kick ass melodic hard rocking tunes out of many we have written and are now available to you here and through select resellers. Enjoy! Les ; )
...
I hope to build this site out as a source for things that are cool and useful as well as a source for collectables related to "Transformers:The Movie". Own an Autographed Damn Cheetah/P R I M A L CD signed by vocalist Les Brown of "N.R.G. / Damn Cheetah" more...
...
Learn from the pro's with the Drum School Instructional Video Series...
(Drum School I: -VHS Tape- Features drummers Lee Mangano my long time friend of "N.R.G."/ Joe Pet of "The Joe Perry Project" / Jackie Santos of "Tavares" and Hirch Gardner of "New England"....from beginner to advanced learn more...)
(Drum School II: -DVD- COMING SOON...Features drummers Lee Mangano of "N.R.G."/ Joe Pet of "The Joe Perry Project / Gary Moffatt of "38 Special" and Sean Shannon of "The Pat Travers Band" and "Molly Hatchet". Do you want to be a great drummer? Check out Drum School! )
...
MP3Wrapster is really cool software that allows you to wrap your MP3's into self contained/self playing files that allow you to inject a message and direct internet traffic and fans to your website... Free Trial!
To become a reseller of any of these products please contact us!
...