| | |
| --- | --- |
| | If this says "ONLINE" click here for real time help! |
.
TF:TM Store
CD- Transformers:The Movie Soundtrack...it still kicks ass!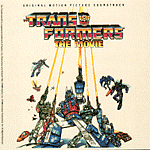 The awesome Transformers The Movie soundtrack album features original compositions from Weird Al Yankovic, N.R.G., Stan Bush, Spectre General, Lion and Vince DiCola and some great soft rock.
1. The Touch - Stan Bush
2. Instruments Of Destruction - N.R.G.
3. Death Of Optimus Prime - Vince DiCola
4. Dare - Stan Bush
5. Nothin's Gonna Stand In Our Way - Spectre General
6. The Transformers (Theme) - Lion
7. Escape - Vince DiCola
8. Hunger - Spectre General
9. Autobot/Decepticon Battle - Vince DiCola
10. Dare To Be Stupid - Weird Al :: Buy Soundtrack ::
DVD/VHS-1999 - Special Collectors Edition from Rhino Home Video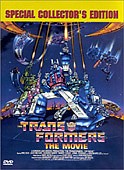 During the 1980s, one cartoon series ruled the airwaves... The Transformers. This paragon of consumerism was created with a dual purpose--to entertain and to galvanize children to buy the toys. Somewhere along the line, the show became a cult favorite, so in 1986 they fashioned an epic tale of good versus evil specifically for the big screen. The result looked vaguely like an animated remake of Star Wars. Who are the Transformers? The good guys are the Autobots: Optimus Prime, SoundWave, Jazz, Ultra Magnus, and many more. Their mortal enemies are the evil Decepticons, led by Megatron and StarScream. The Autobots must save their home planet from an evil entity known as Unicron (voiced by Orson Welles). At the same time, they must defend themselves from an all-out attack from the Decepticons. Along the way, lives are lost, battles are fought, and a new Autobot leader is born as another dies. The story and action never stop in a thrilling ride that often makes you forget that you're watching an '80s cartoon with inferior graphics. The violence will also come as a mild shock to those who haven't seen this film for a while--definitely a movie for the 8 and over audience. For those who grew up on this series, this is a movie that must be watched. Unlike cartoon serials before and after, The Transformers relied on solid stories and interesting characters, a manifesto the film itself upholds with gusto and grace while also being morally responsible. Don't underestimate this movie; there is definitely more to it than meets the eye. --Jeremy Storey --
JUST RELEASED!!! DVD - Transformers The Movie (Australian Release Region 4)

For the first time in Australia, Transformers - The Movie explodes onto DVD! Transformers - The Movie features the classic bots that spawned a phenomenon and franchise that continues to this very day. Canadian based Dreamwave Productions, whose recent comic series have been credited with spear-heading the surge in Transformers popularity, have contributed original and exclusive cover art for the Australian release. With a huge and loyal fan-base, 'Transfans' and retro-fiends alike won't miss the opportunity to own this 80's cult classic.
Special Features:
TV Spots
Theatrical Trailer
'The Touch' music video
'Creation of the Cover' Art Gallery
Artist Biography (Includes NRG!)
Character Biographies
Voice-actor Biographies
Musician Biographies (Includes NRG!)
Reversible Cover
POSTERS - Transformers:The Movie
Transformers Autobot Logo
Buy it for $8.99!
Transformers - Movie Art
Buy it for $8.99!
www.allposters.com
Transformers - Megatron
Buy it for $8.99!
www.allposters.com
Transformers - Optimus Prime
Buy it for $8.99!